Dear Donors and Friends,
2015 has been a very difficult year in Nepal—the earthquake, aftershocks which lasted for months, political challenges, and now a petrol & propane crisis that has shut down flights, road traffic and restaurants. The country is moving from monsoon rains to the start of winter, but the government has hardly moved on beginning reconstruction.
Some of you may have seen the recent update about our Go Fund Me campaign to support rebuilding in Nepal. In addition to the support for village reconstruction for Mountain Madness staff in the Everest region, we are also continuing our long–term work through Changing Lives Nepal with our NGO partners, Neel & Parshu. Aid and assistance are flowing into Kathmandu, but the rural areas where CLN has been working in since 2008 are still struggling to meet basic needs.
Neel's village area, Sindhupalchowk, was one of the five most heavily affected districts. Although the new Children's Home survived intact and all of our kids are safe, more than 90% of village homes were damaged or destroyed and 14 out of 19 area schools were destroyed. CLN granted $10,000 for immediate relief, which included providing tin sheeting for roofs and toilets in the remote village of Thangpaldhap (see below). Neel 's current focus in is rebuilding with sustainable building options that can be used for schools and also taught to young people as a skilled trade.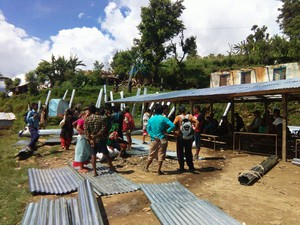 Parshu's village area, Sankhuwasabha, was further from the epicenter and therefore less affected, but still 25% of the 600 homes in his village were destroyed (plus another 50% cracked in some way) and 3 of 12 area schools were destroyed. Parshu came to the US this summer where he has attended a natural building conference to learn about new building techniques that could be used in Nepal and also attended a coffee training to help improve the new organic coffee industry. Farmer's interest in organic cash crops is spreading, in part because people need cash to repair their homes and they do not believe they will receive much, if any, assistance from the government. Even the Wall Street Journal has been discussing the importance of economic health & earning opportunity in Nepal's recovery. (one photo—colloquium)
Through the past months, we have all, Nepalis and foreigners, farmers and businessmen, children and adults, been coping as best we can with the trauma we've lived through. For me, it has been profoundly emotional in my own experience and also as a witness to the suffering and struggle in Nepal. This fall, for the first season in 10 years, I will be in Nepal without a trekking group. It is a time to reconnect with the people and the earth in my spiritual home, and to determine the most effective way to move forward in our work at Changing Lives Nepal. I'll be sending updates from the field visits soon…
Nancy and I have deep gratitude for all of you, as you have supported our work and the communities in Nepal, through this disaster and into the future. Many of you contributed greatly this summer by organizing fundraising events, hosting donation dinners, and offering a matching grant for funds raised, and we have a few of your stories below. Although we can't mention everyone here, you will find a full list of donors on our website—and you are the foundation on which our programs thrive. Thank you. (photo??) [Jen, can you please be sure all donors are listed on the CLN site?]****
Our plans for the future include sustainable building for homes and schools and economic strengthening, including organic Himalayan coffee. You can learn more about our intentions HERE and details are to come after the fall field visits are complete. Please consider setting up a recurring donation to support the long-term rebuilding in Nepal!
We hope this finds you and your families happy, healthy, and in abundance.
---
Summer Fundraising Events
A
bove and beyond all the amazing support for 
the 
GoFundMe
 campaign to help Mountain Madness
 staff rebuild their villages, 
Changing Lives Nepal had outstanding support this summer as donors and friends organized events to support reconstruction in Nepal
….
Jilyan
 Perry, active member of the West Seattle community for 10 years and 
an experienced nonprofit fundraiser was inspired to hold a fundraiser because 
her boyfriend Stewart Wolfe was 
Assistant Guide on 
the Mountain Madness 
Everest
 Base Camp 
trek when the earthquake struck. 
Local 
C&P Coffee Company 
eagerly donated their space for the event
,
 and the community of Seattle came out to enjoy an afternoon of food, drinks, and a silent auction. The grand total raised was just shy of $5000! Read More
In August, a local group 
artists and musicians 
from Truckee CA
organized 
the
Nepal Earthquake B
enefit
 at Art Obs
ess
ions Gallery
. 
Art work inspired by Nepal's earthquake were 
auctioned 
live
, along with
an
 evening of great food, live music, and silent auction. 
Venerable 
Lo
sang
Samten
, 
renown 
Tibetan scholar and former Buddhist monk, o
pened the event providing a "prayer for Nepal". He is
 pictured here with the painting
 "Survivor" depicting the story of the mirac
le
 baby boy who survived for 22 hours in the earthquake 
rubble
. Truckee 
raised over $4,500 for Changing Lives Nepal.
Photos here.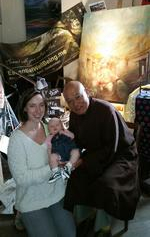 St
.
 Xavier High School, 
through the leadership of
 Ron and Michele 
Stegman, 
collected 
over $3,000 
for Changing Lives Nepal e
arthquake
 relief efforts. 
Former Peace Corps Volunteer, 
Anne 
Schoelwer
,
hosted
 a delightful Dal Bhat Relief party
 in Cincinnati, where she cooked traditional Nepali food
 and raised $2,000!
(
any
 photos?)
Trekkers who met and fell in love in Nepal, 
Jason and 
Jenn
 Adelman
,
hosted a fundraiser at The 
Feve
 (their Oberlin, Ohio bar) and raised
 over $3,800!
(
any
 photos?)
Longtime supporter of Changing Lives Nepal, Alan and 
Alix Harter provided a
 second
 matching grant opportunity 
through 
their company Pacto
lu
s Private Wealth Management
, LLC
. Their offer
 of a $10,000 match for CLN donations
 came 
days after April's
 earthquake. 
CLN met the match in Augus
t through the many personal donations inspired by the tragic earthquake and
 generosity
 of Pactolus doubling their donations
.
---
Earthquake Relief in Thangpaldhap
Our CLN partner, Neel Shahi, did not let a moment pass after Nepal's devastating earthquake before he put his team and resources into action to provide emergency aid to his rural village area, the Sindhupalchowk district. Sindhupalchowk was one of the hardest hit areas, with 90% of homes destroyed and many lives lost. TEAM Nepal focused on providing necessary supplies (food and water), temporary shelters, and medical support. Many of the remote villages they aided were not reachable by transportation, and the aid had to hiked in. 
As one of TEAM Nepal's largest supporters, CLN provided a $10,000 grant to provide galvanized steel roofing sheets to 918 families to repair homes in the Thangpaldhap village where 115 villagers and 400 cattle were killed. We also provided funds for 175 toilet tents that were built in this area. The goal of this aid was to provide more hygienic and healthy living conditions prior to the monsoon season. CLN helped to support 1100 families with their homes and health. In part due to these preventive measures, there have not been any epidemic outbreaks in the area this summer.
---
The export tea industry in Nepal dates back over 100 years, but coffee is still quite a new crop in Nepal. Rural farmers have suitable land for coffee, but they lack technical knowledge about processing, storing, and packing in order to earn good income from the coffee. Current coffee producers, even large ones, are generally producing very low quality coffee because they don't know how to control the processing appropriately, and shipments of Nepalese coffee have been rejected by international buyers due to problems with the quality. CLN's organic agriculture expert, Director Parshu Dahal, believes coffee can be a powerful source of income for rural farmers, so we are working together to build quality coffee production as a new industry in rural Eastern Nepal. Expert opinions ranging from the Wall Street Journal to international nonprofits have emphasized the critical role of income-earning as part of Nepal's recovery.
Through CLN grants, 40 farmers have been organized and provided initial training in organic coffee nursery management, seedling plantation and bush management. Parshu has since been researching better coffee processing methods. When he came to the US for a family visit this summer, CLN sponsored him for a coffee training in Texas where he got first-hand knowledge and training on coffee production. His goal was to learn how to increase the quality of green (unroasted) beans for export from Nepal. What was his experience? What will he do next with coffee in Nepal? 
Parshu says…"I realized that our Nepali green beans have more chaff whereas beans imported from Brazil and Columbia are shiny. Our sample also has broken and bug-eaten beans, which destroys taste. I learned skills for screening such defects, and now I have better ideas for drying, packing, and storing. I am going back to Nepal with basic materials such as moisture meter, sample Grainpro plastic, coffee processing videos and books. Proper knowledge of processing and experience here in Texas will greatly improve our export coffee in Nepal. I plan to work with our farmers to implement the methods I leaned from my training. Definitely, our next lot of green beans will meet US standards!"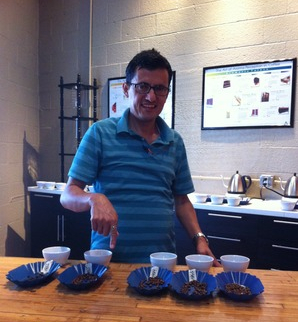 2 photos: one of Parshu tasting in the US and one more something else
More updates from the project areas as we visit this fall!