Dear Donors and Friends,
Namaste and hello….We are nearing the end of 2014 with tremendous progress on our programs: the new Children's Home is nearly complete, almond trees are proliferating, and the nuns from Tsum have been trained on solar cookers! Through Changing Lives Nepal, we aim to use small funds for big impact. Generally we do this by providing seed money to get new programs launched and growing or by providing gap funding to help cover costs when other funding has been secured. We are seeing once again a growing return on our investments–and a growing impact in people's lives through our programs.
Two highly visible tragedies have also occurred in Nepal this year, the Khumbu Icefall avalanche in April which killed 16 Sherpas, and the Annapurna snowstorm in October which killed 43 people (both foreigners and Nepalis). Our heart goes out to the families of those killed, and we are reminded, yet again, of how hard Nepalis work to make a better life for their families. They take on dangerous and difficult work in harsh conditions because so little economic opportunity exists in Nepal. Part of our goal at CLN is to help alleviate poverty through income generation–like organic cash crops which generate desirable and profitable economic opportunity.
Your continued financial contributions to Changing Lives Nepal provides much needed support to farmers and children in Nepal. Our programs have positively impacted hundreds of families for more than 6 years. Please take a moment to donate and enjoy the highlights from this year:
–Children's Home: The kids are smiling, blossoming, and truly benefiting from the stability and continuity of a family style environment. Construction of the permanent buildings is nearly complete: the walls have gone up, the plumbing has been installed, the wiring of light switches is underway, and we are down to finishing doors and windows and painting the walls. New bedrooms, new kitchen, new bathrooms, new outdoor play area–everyone from the house mothers to the 5 year olds are EXCITED to move soon!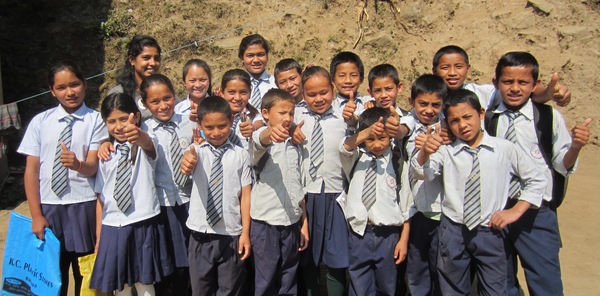 –Organic Almonds: We have 62 active farmer families, new irrigation cisterns, and plans to plant 300 trees this winter to start our own almond nursery. Parshu, the director of our Nepali partner SODEC, has been networking effectively with agricultural research stations and with the government to secure funding and support for the program in the coming years.
–Higher Education: We provided seed money to kickstart Grades 11 & 12 in Neel's, the director of our Nepali partner TEAM Nepal, home village so that children don't have to leave their families nor bear the cost of food and lodging in Kathmandu or other towns in order to complete these two grades. The school received government approval and classes have begun!
–Solar Cookers: We installed five solar cookers with the Buddhist nuns in Tsum Valley and trained them on how to set up the cookers, maintain them, and position them for best power.
–Urban Rooftop Garden Pilot: Based on what Parshu saw in San Francisco while on his CLN-sponsored U.S. agricultural tour last fall, he has started an urban rooftop garden in Kathmandu, growing a variety of organic vegetables–and has five other families starting rooftop gardens also.
–Organic Tea: Over 2600 lbs. of tea were produced this year and that number is expected to grow significantly in the next 2-3 years. The program is currently self-sufficient and requires no support from us!
–Maya: Still dancing, studying, and taking charge of the littler children, plus her adult teeth are coming in straighter after some time with the dentist.
Please see the program information below for further details and check out photos from the year.
Your donations make a difference! Please DONATE to change lives in Nepal. We are grateful for your support over the years and invite you to be a part of our future vision!
Wishing you all abundance, well-being, and happiness through the holidays and throughout the year!
Warmly,
~Deana & Nancy
Children's Home
We have 19 children in the home now, and they have had an excellent year, both academically and emotionally. Eight of the children rank in the Top 10 of their class exam scores. Sukumaya, who has suffered from emotional problems in the past, has been much more stable and is #6 in her class and preparing to take her high school certificate exam this year (after Grade 10 in Nepal). The kids celebrated the Tihar festival on the patio of the new home in October, the staff have started planting the organic garden, and everyone is waiting for the interior doors, painting, and wiring to be completed so they can move in!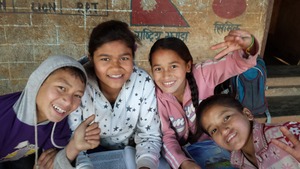 Neel has been incredible this year, visiting the home sometimes twice in a week to keep a close eye on construction. He rides 3 hours each way on his motorbike to reach the home, so it has taken a tremendous amount of time and energy to oversee construction. The older girls in the home and one of the house mothers have moved from the old home to the new volunteer quarters (temporarily) so that they are on the property to take care of things as the new home is completed. Neel has been successful in raising money for much of the construction, and gap funding from CLN is helping to cover other costs including construction of the kitchen, fencing the orchard and property, painting the rooms, and more. We need financial support to help complete the painting, electrical wiring, some work in the toilets, and the carpentry for doors and windows.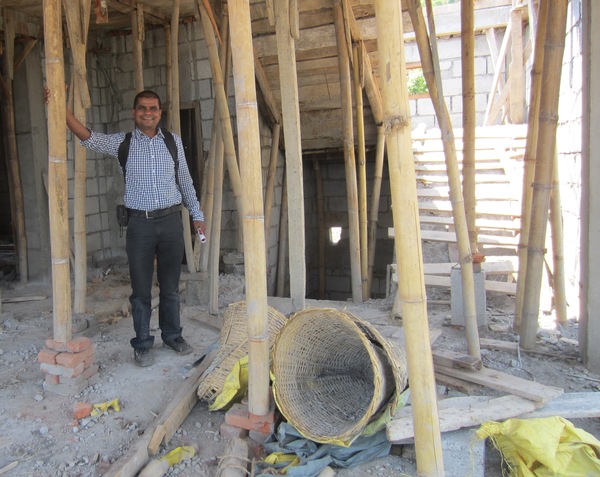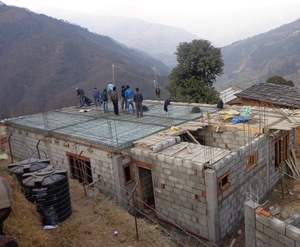 The goal is to have a permanent home to provide stability for the children, to ensure that we can continue to rescue children in the future, and so that we can invest love and labor into the land and buildings–planting fruit orchards, growing organic food, raising goats and chickens, having a good kitchen for the house mothers to cook in. We are hopeful all the children will move in the next 3-4 months. Separate volunteer quarters will also encourage people to visit and give their time and energy to the children. The children have benefited already from volunteers reading books, practicing English, teaching computers, teaching yoga, providing love and guidance, and so much more. The new quarters (and bathrooms!) will make it much easier for people to stay a week or a month. Come visit on your next trip or send a friend! 
---
Solar Cookers for Buddhist Nuns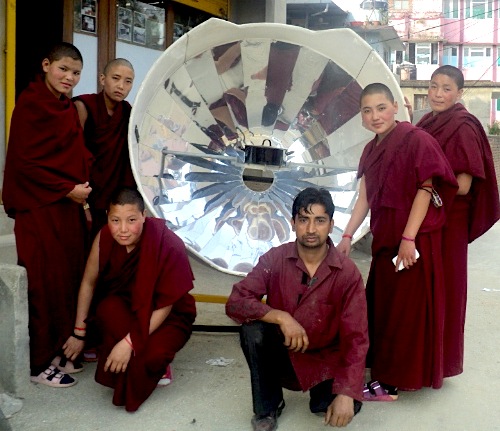 In April, five Buddhist nuns came to Kathmandu where they received a one-day training on setting up, installing, and using solar cookers. We purchased five cookers for nunnery, and Kopan Monastery in Kathmandu arranged for transportation of the cookers to remote Tsum Valley. The manager reports that they use the cookers regularly for heating water and for some light cooking, saving a significant amount of firewood. Think about the amount of hot water needed for one round of tea for 80 nuns! Right now, they still cook main meals for the 80 nuns on the wood stove because the meals are so large. In Dec-Feb, when fewer than 20 of the 80 nuns remain at Rachen through the snowy winter, they will be able to use the cookers for meals instead of building a fire in the huge iron stove. In addition to saving trees, the nuns have to walk 3 or more hours away to collect firewood and then carry it all home on their backs, so reducing the need for firewood reduces exhausting labor and creates more time for their Buddhist practice and prayers.
---
We have 62 farming families actively engaged in almond cultivation and are continuing to grow towards the goal of 200 families. 300 almond trees were planted last winter, but some of them were lost to insufficient water and mistimed planting. We know it's a learning curve to find what works, especially in the first year or two. We installed various types of irrigation at the different sites: two 8000-liter cisterns along with simple ditches for rainwater collection and lengths of hose for watering. Planting in Nepal also varies significantly with altitude and sun-facing angle of the mountains, so we adjusted the timing of the planting also. In the next batch of 700 trees, the saplings were poor–some of them wilted and failing from the nursery. Those that were strong enough to survive are receiving good water and care.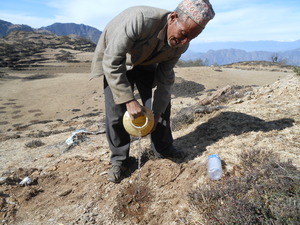 Parshu has spent time researching and visiting agricultural stations with almond demonstration plots. He has built a relationship and convinced the best demonstration area to expand their nursery and provide us with better quality saplings at only 30% of our current sapling cost–a big win-win for the program this year. They are also providing technical assistance so that we can start our own nursery grafting almond saplings. Parshu is bringing an almond expert from the research station to meet with the government as he pursues government funding for long-term support and continuation of the program, and this is really where he excels: Parshu has proven with tea that if we help him get the program started, he can leverage initial success to get funding and support from the government and INGO's in Nepal. He is making substantial progress in doing the same with almonds, and we are hopeful to have partial government funding in place before the end of 2015. Sustainable, locally-driven, grassroots development in action!
We now have about 600 trees growing (from a total of 1000 planted), and a clear sense of the best practices for planting and care. Our aim in 2015 is to plant 300 more trees and to expand the program in two of Nepal's most conflicted-affected areas. We have hired a new field staff for some of this work. He is a local man who was kidnapped and tortured by insurgents during the conflict era and was forced to flee his home with his family. He is highly motivated to be building a new life through sustainable agriculture, and we are glad to see that the impact of growing almonds extends beyond income generation to healing some of the wounds of Nepal's decade-long civil war.
---
Urban Rooftop Garden Pilot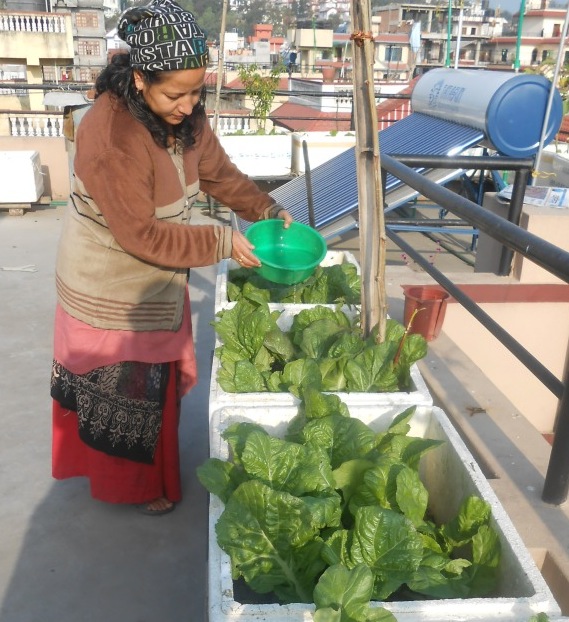 Parshu told me recently, "Now I realize that those 2 months of travel [in the U.S.] have made me think differently about my work here. I have lots of new ideas." He has started a rooftop garden like he saw in San Francisco and is growing eggplant, tomatoes, peppers, okra, beans, radishes, garlic, greens, and more on the flat roof of their 3-story building. He repurposes styrofoam containers to use for planting (they originally contained grease from India), and he has convinced 5 other families nearby to start rooftop gardens as well. Parshu continues to be full of motivation and inspiration and is a source of innovation and change in his community.
---
Maya is thriving. She stayed with me once again this spring, and you'll find that story HERE if you missed it. She's doing well in school–all her marks over 80%, which is high for Nepal. She went to the dentist and wore a mouth brace for a few weeks to help her front teeth come in straight. They were starting to be very crooked–but now they look great! She continues to be the leader of the small ones at her orphanage. Four new younger children have arrived, and she has a humorous and delightful way of getting them to do as she wants.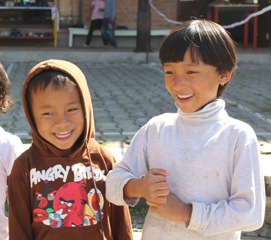 In October, Maya celebrated the Dasain holidays with 42 children who had recently been rescued from trafficking. While these children await repatriation to their families, Maya's orphanage hosted all of them for a day of celebration and blessing during the biggest festival of the year. Maya helped show them around and played games with them for much of the day. When the little ones were playing dominoes, Maya quickly took the role of making sure everyone followed the rules of play. At the moment, Maya is princess-crazy and still loves to dance. We continue to help fund the orphanage and Maya's future education.
---
In Neel's area, we helped to kickstart establishment of Grades 11 & 12 in 2014. Out of more than 20 district schools which applied to the government for Grades 11/12, the school in Neel's village was the only school to receive approval. The reasons? They have a strong and active managing committee (which many schools don't), gentle and committed teachers (while many schools have teachers who don't even attend school all the time), a central location, and, with help from CLN, they were able to come up with the teacher's deposit. The school needed to place a deposit to cover 2 teachers' salaries for the first 2 years to demonstrate that they are really prepared and committed to the grade expansion–so we helped them with part of the cost. The government will start paying for the 2 teachers after the first 2 years, and the grades will continue far into the future.
This year 44 teens and young adults are enrolld in the new Grades 11/12, and more than half are girls. Girls in particular are more likely to be kept at home and not continue their studies if school is expensive and far away. Having a village-based high school helps to support girls' education.
---
We hope that you've enjoyed the stories and photos from this year. Your support has been integral to our success!